Reflecting on Charism and Mission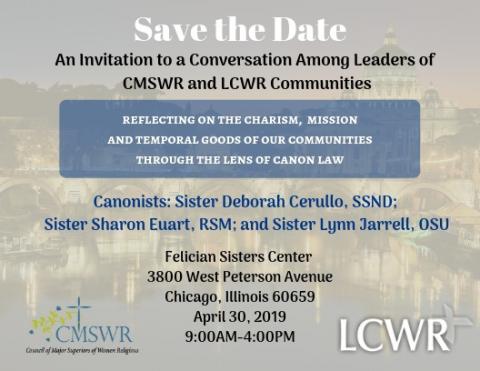 The Council of Major Superiors of Women Religious (CMSWR) and LCWR are co-sponsoring a day of reflection on some aspects of the ministry of leadership as religious leaders on April 30, 2019 at the Felician Center in Chicago. The day will involve input, reflection, and conversation guided by three canon lawyers. We plan to host 100 members, 50 from CMSWR and 50 from LCWR. As is our practice with an opportunity for national participation, we are asking each region to send two members as representatives to this gathering. In addition, members of the LCWR board and the executive director will attend. There will be space for a few more members, perhaps coming from the local Chicago area. Regional chairs will be in touch with their members with more information.
CMSWR and LCWR are co-sponsoring this gathering and providing the resources to cover the costs. We ask that those attending take care of their own travel and lodging, if needed. The Felician Center has some rooms available and there are nearby hotels for nominal fees. The O'Hare airport is about 30 minutes from the Center and Midway is about 60 minutes away. The day will begin with arrival at 9 am and end by 4 pm.