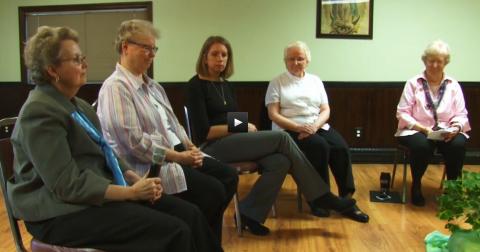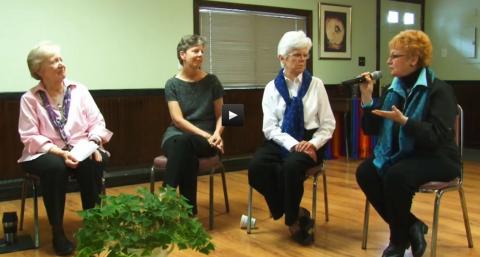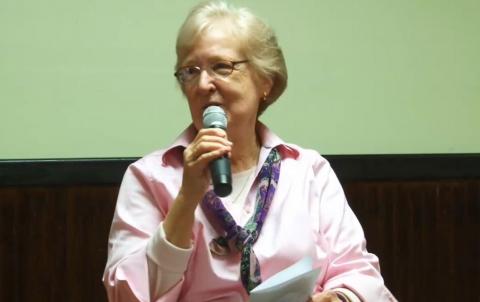 Contemplative Dialogue: Unleashing the Transformative Power of Communal Wisdom is a video that demonstrates one method by which a group can engage in contemplative dialogue. Because we are paying attention to the field of relationship (the "WE space") among us, this slow-moving manner of dialogue deepens our sense of union. Our intention is to move beyond the personal as we probe significant ideas together and listen deeply for truth in another's point of view. Contemplative dialogue is a means of readying the ground for collective transformation, for helping shift from I to WE, from individualism to communion.
The one-hour video may be seen online (below) and is provided by LCWR so that viewers may come to better understand this form of dialogue by watching an actual contemplative dialogue session. The video may be shared widely since many people today are searching for ways to converse with depth and openness about matters of significance. Contemplative dialogue fosters an exchange that allows for differences to be expressed, honored, and held with reverence. The video is also available with Spanish-language captions of the introduction and closing remarks, along with translations into Spanish of the documents referenced below.
We suggest that you set aside an hour and engage the video from a centered, prayerful space so that you can feel the experience of contemplative dialogue which involves slow conversation, pauses, and silence in order for participants to go deeper in their listening to and building upon the responses of one another.
A downloadable PDF document below provides additional information on contemplative dialogue and suggests how a session might be conducted. Also available is a transcript of Liz's introductory remarks from the video where she explains contemplative dialogue.