Mentoring Leadership Manual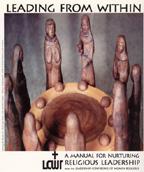 LCWR offers a leadership mentoring program that can be pursued from home.  The conference developed Leading from Within: A Mentoring Leadership Manual that is based on the three dimensions of leadership (symbolic/meaning-making, relational, structural/organizational).
The program
is especially helpful to those relatively new to leadership but is a valuable reflection tool for any leader.
involves a period of reflection, study and exploration on the part of the leader. The process usually takes about one year.
involves partnering with an experienced leader or former leader who serves as a mentor, or forming a peer mentoring group.
is flexible. Participants can do as many or as few of the units as works well for them.
offers a variety of experiences that will accomodate different styles of adult learning.
Members of the task force that prepared the manual were: Nancy Schreck, OSF; Angela Gannon, CSJ; Diane Grassili, RSM; Regina Bechtle, SC, and Marie Chiodo, DW.
Copies of the document, Dimensions of Leadership, may be downloaded below in English, French, and Spanish.