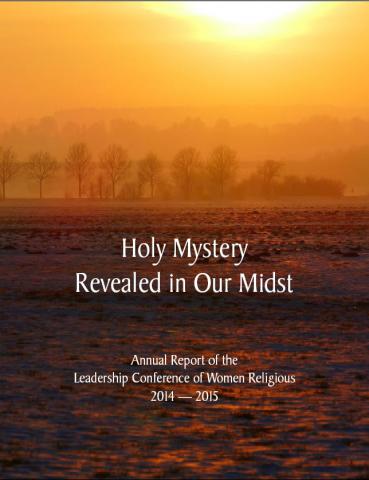 Nashville, 2014: LCWR members gathered from all parts of the country to reflect on "Holy Mystery Revealed in Our Midst." The hotel ballroom pulsed with the Spirit, as hundreds of women listened in contemplative space for Holy Mystery to reveal deeper wisdom.
The desire was intensified by the keen awareness of that other mystery so active in our world. By whatever name, we know the mystery of evil, manifest in the anger, frustration, and hate which spawn endless spirals of violence. We search for ways to counter the causes and effects of trafficking, racism, war, and terrorism. We work to raise awareness of unjust immigration laws, the increased poverty gap, and resistance to measures needed to preserve creation for future generations.
In her presidential address, Carol Zinn issued a challenge to us. We must stand in the "lamentations of our world, country, church and vocation…singing the music in God's heart." We must sing the music of compassion, tenderness, and encouragement. In his document (Misericordiae vultus) announcing a Jubilee Year of Mercy, Pope Francis recognizes Jesus Christ as the face of the Father's mercy. This, then, becomes the face and the music of the disciples of Jesus.
In a particular way during this past year, LCWR has witnessed the revelation of Holy Mystery in the unfolding and resolution of the CDF mandate. With the publication of the joint final report and the press release on April 16, 2015 we recognize the potential of contemplative processes and of substantive dialogue between bishops and women religious for the benefit of the church as a whole.
This, however, is not a completed journey. We move toward our 2015 assembly anticipating "springs of the great deep" to burst forth challenging us to meet the "thirsts of the world."
Sharon Holland, IHM -- LCWR President; Marcia Allen, CSJ -- LCWR President-Elect; Carol Zinn, SSJ -- LCWR Past President
Download the entire annual report as a PDF document below.