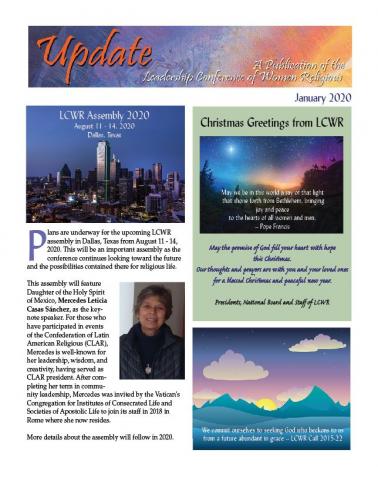 Emmanuel, God-With-Us, Here and Now, Today and Tomorrow
by Carol Zinn, SSJ - LCWR Executive Director
As I've journeyed through these Advent days of holy waiting and watching, preparing for the feast of the Incarnation with eyes focused on a new calendar year filled with Epiphanies, the experience of the 2019 LCWR Assembly remains with me. The speakers and processes invited us to:
Widen our tents
Cross borders and boundaries
Celebrate our luxurious diversity
Become web-weavers and web-watchers
Facilitate the space for the emergence of religious life
Look toward the global realities of religious life
Develop more porous borders
Move towards collaboration more intentionally
Discern LCWR's role in the public square
Make good use of technology
Practice leadership of the whole of religious life
Deepen our understanding of the intersection of migration, racism, and climate change. 
 To continue reading, download PDF of the newsletter below.