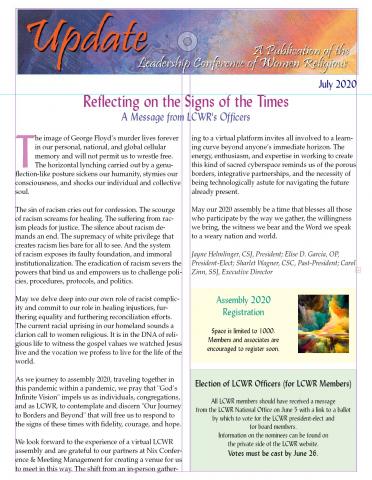 Let Us Be Living Sankofas
by Sharlet Wagner, CSC -- LCWR Past-President
While I was living in Ghana I discovered the rich world of symbol in that country's history and culture. One of the Ghanaian symbols that spoke to me deeply was the Sankofa, a word meaning literally, "Go back and get it." The Sankofa (pronounced SAN-koh-fah) symbol is a bird with an egg held gently in its beak. The bird's feet and body are facing forward, while its head is turned, looking backward.
The symbol is one that encourages us to look back and examine our past and to carry forward those treasures that will help us in building our future. This column is my last as a member of the LCWR presidency. I finished 10 years in congregational leadership last September and will conclude my time in the presidency this August. While my feet are facing forward, I find myself looking backward and considering the many treasures that I carry with me as I move on from leadership in the conference and my congregation. (to continue reading, download the PDF of the newsletter below)