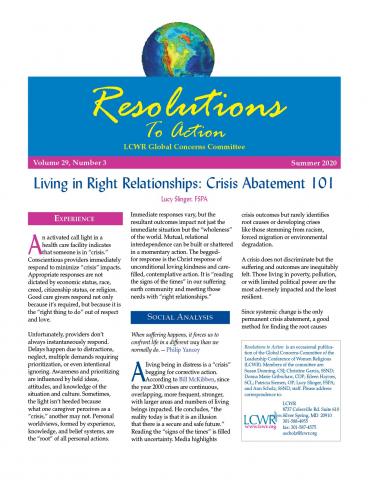 by Lucy Slinger, FSPA
An activated call light in a health care facility indicates that someone is in "crisis." Conscientious providers immediately respond to minimize "crisis" impacts. Appropriate responses are not dictated by economic status, race, creed, citizenship status, or religion. Good care givers respond not only because it's required, but because it is the "right thing to do" out of respect and love.
Unfortunately, providers don't always instantaneously respond. Delays happen due to distractions, neglect, multiple demands requiring prioritization, or even intentional ignoring. Awareness and prioritizing are influenced by held ideas, attitudes, and knowledge of the situation and culture. Sometimes, the light isn't heeded because what one caregiver perceives as a "crisis," another may not. Personal worldviews, formed by experience, knowledge, and belief systems, are the "root" of all personal actions.
Immediate responses vary, but the resultant outcomes impact not just the immediate situation but the "wholeness" of the world. Mutual, relational interdependence can be built or shattered in a momentary action. The begged-for response is the Christ response of unconditional loving kindness and care-filled, contemplative action. It is "reading the signs of the times" in our suffering earth community and meeting those needs with "right relationships."