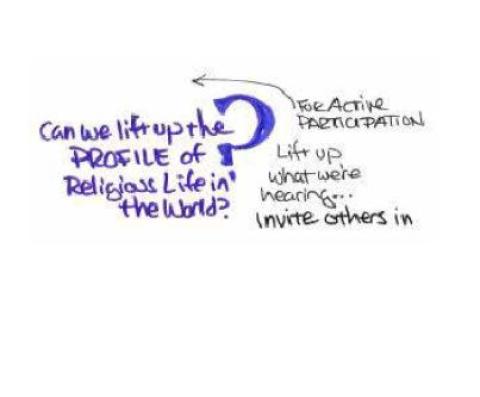 "What We Are Seeing" provides a summary and an analysis of what LCWR has learned in the period of August 2021 through February 2022 in the conference's Discerning Our Emerging Future Initiative. This initiative is exploring how LCWR religious institutes may collaborate to find new ways of supporting religious life so that those living it can fully participate in the mission of the Gospel now and into the future.
The ideas contained in this document came from the feedback provided by many persons from a variety of areas including LCWR members, faciliators working with religious congregations, LCWR conversation partners who are accompanying leaders through discernments about their future, theologians, and religious working for other organizations serving religious life. The gatherings in which these conversations took place since the August 2021 LCWR assembly are shown in the diagram on page 3. 
The insights, ideas, hopes, and challenges shared in all of this feedback were processed by the planning group who looked for patterns, differences, obstacles, and significant questions in the data. We then asked ourselves: What did we hear? How does what we heard matter? What does it mean?