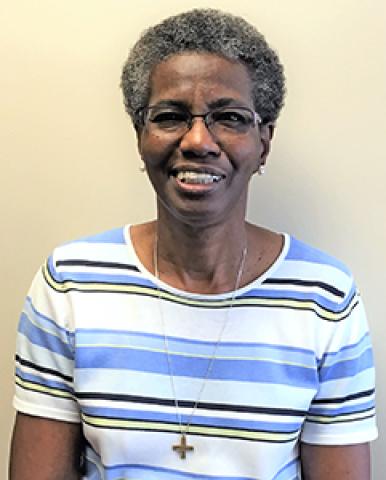 An authentic and tireless advocate for nonviolence and racial justice, Patricia Chappell has dedicated her life to the reformation of institutions and the transformation of hearts. 
Born into a tight-knit Black community in New Haven, Connecticut, her life was shaped by the experiences of her own family and neighbors. The oldest of seven children, she was immersed in local justice issues and learned early on about the need to speak up and speak out. She knew of the racial discrimination endured by her ancestors, experienced it herself when she ventured beyond her own neighborhood and parish, and became on fire with the Black Power movement. 
While studying psychology and social work at St. Joseph College in West Hartford, Connecticut, she gained an understanding of how US systems were constructed to keep some people marginalized and oppressed to the benefit of others and her passion to work for change grew ever stronger. After earning a master's degree in social work from the Catholic University of America, she worked with Black youth and their families. She later entered the Sisters of Notre Dame de Namur, the community who taught her in Connecticut, after one of the community's Black sisters invited Patty to a National Black Sisters' Conference meeting. Seeing that religious life was possible for Black women changed her life. 
 
She knew that by becoming a Catholic sister in the United States, she would be part of a predominantly white institution that was steeped in racism. Through hard work and dogged persistence, she has worked tirelessly to eradicating racism within religious life, as well as in the unjust social systems of our country. She has brought that passion to all of her ministries which have included counseling at youth centers, community organizing, administration of the National Black Sisters' Conference, and service as the first Black executive director of Pax Christi USA. She was also the first African American to serve as a member of her province's leadership team from 2001 to 2006, and in 2019, she was elected to US East-West SNDdeN leadership team. 
In addition to her professional roles, she serves frequently as a public speaker, revival leader, and preacher in venues across the country. She also underwent extensive training to work with institutions that seek to develop an antiracist culture and practices. Since then, she has facilitated antiracism training for numerous parishes, organizations, and about 40 institutes of women religious. A rousing orator who attracts and engages her audience, she has impacted thousands who are eager to embrace her anti-racist message.
Patty has a soft spot for those who struggle, especially the young, the vulnerable and the elderly.  Her greatest joy is to minister to marginalized populations where she has walked with the people to empower them to articulate their needs and organize to actualize their dreams.