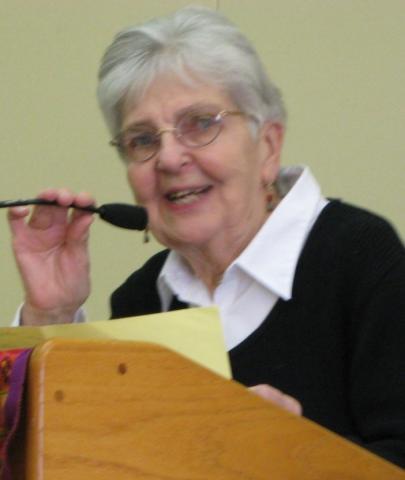 Mary Daniel Turner, a member of the Sister of Notre Dame de Namur, was raised in Washington, DC where she was deeply influenced by her proximity to one of the centers of world power. Her father, a butcher, and her mother, a government worker, educated her at Catholic elementary and secondary schools. Mary Daniel went on to earn a bachelor of arts degree in philosophy from Trinity University, a master of arts in philosophy from Catholic University of America, and a master of arts degree in theology from St. Michael's Institute at the University of Toronto.
Following her entrance to the Sisters of Notre Dame de Namur after high school, she taught in elementary and secondary schools as well as in college, and was an elementary school principal. Within her congregation, she served as director of junior professed members, was elected provincial of her congregation's Maryland province and was later elected superior general.
Mary Daniel's service and influence has extended far beyond her own congregation. She was the national chair of the Sister Formation Conference and the executive director of the Conference of Major Superior of Women (CMSW), later to be called the Leadership Conference of Women Religious. For many years, she has been in demand as a facilitator, retreat director and organizational consultant to numerous religious congregations and Catholic organizations.  This work involved her as well in the founding of several national organizations including: the Religious Formation Conference, the Association of Contemplative Sisters, the Center for the Study of Religious Life, Sisters Uniting, NETWORK, and the United States Catholic Mission Conference (now USCMA). She also coordinated and facilitated several InterAmerican conferences and gatherings.
Her written contributions include: The Transformation of American Catholic Sisters, a book she co-authored with Lora Ann Quiñonez, CDP; a chapter on power and authority in the recently published book, Called and Chosen: Toward A Spirituality For Lay Leaders; and numerous articles.
Mary Daniel's strong commitment to being fully a part of a multi-cultural world where she is exposed to the injustice suffered by so many of the world's inhabitants led her to  the work of executive director of Joseph's House, a permanent residence for homeless men with AIDS. She also chooses to live in a bi-racial and multigenerational household.
LCWR joins with several other institutes and organizations who have chosen to honor Mary Daniel. These include Trinity University who awarded her an honorory doctorate, as well as Washington Theological Union and the Religious Formation Conference.