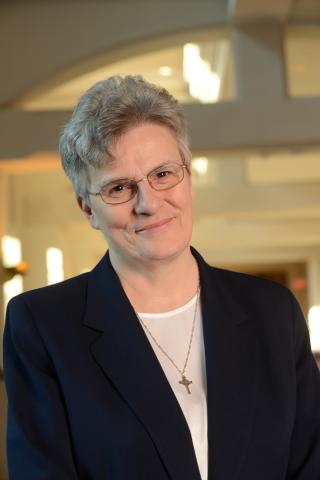 It is unusual that one person could impact the lives of nearly every woman and man religious in the United States, but in the case of Janice Bader, CPPS, the claim is no exaggeration. Through her leadership of the National Religious Retirement Office (NRRO), Janice has significantly helped us shift our view of aging and retirement in religious life. Her work has encouraged communities to provide ways for their elders to see this moment in their lives as a time for deepening spirituality and relationships.  Such new understandings are impacting the way all religious view their lives and mission – no matter their age.
A member of the Sisters of the Most Precious Blood from O'Fallon, Missouri, Janice holds a graduate degree in business administration from Southern Illinois University at Edwardsville and an undergraduate degree in English from the former Notre Dame College in St. Louis. She began her religious life ministering as an educator, until called to service both as secretary general and later treasurer general for her community. She later moved to Washington, DC and in 2000 became project director of retirement services at NRRO, a position she held until 2007.
In 2008, she accepted the call to serve as NRRO executive director. In this position, she has been a successful innovator, designing new programs that respond to the critical needs in religious life at this challenging time. She has been tireless in administering the office, speaking publicly on behalf of religious, and assisting communities to find ways forward -- often with a personal visit requiring extensive travel -- all done with generosity, sensitivity, and enormous compassion.
Additionally, Janice served as a member of the board of the National Association of Treasurers of Religious Institutes, and chair of the Conference of Religious Treasurers, Region X South. She currently serves as a member of the board of the Center for Applied Research in the Apostolate.
Most recently Janice selflessly answered another call to service, and in July 2016, began her term as the president of her congregation.