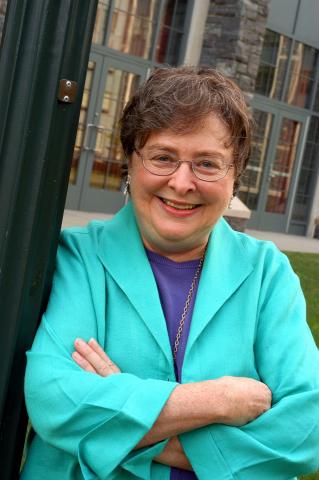 The 2014 LCWR Outstanding Leadership Award recipient, Elizabeth Ann Johnson, CSJ, is recognized by many as today's leading US Catholic feminist theologian. An educator, public lecturer, writer, and ground-breaking scholar, she is considered one of the architects of feminist theology. Her keen intellect, excellence in teaching, and dedication to challenging traditional ways of thinking have won her acclaim internationally, including 15 honorary doctorates and numerous other accolades. Among those honors are the John Courtney Murray Award for Excellence in Theology from the Catholic Theological Society of America, and the prestigious Grawemeyer Award in Religion.
A Sister of St. Joseph of Brentwood, New York, her formal education includes a BS from Brentwood College, an MA in theology from Manhattan College, and a PhD in theology from the Catholic University of America. In early years of ministry she taught science and religion in Catholic elementary and secondary schools, before joining the faculty of the Catholic University of America from 1980-91, and later Fordham University where she is a distinguished professor of theology. Beth's main areas of study are the mystery of God, Jesus Christ, Mary and the saints, science and religion, the problem of suffering, ecological ethics, and issues related to justice for women.
Beth is a former president of the Catholic Theological Society, as well as the ecumenical American Theological Society. She has served as a theologian on the Vatican-sponsored dialogue between science and religion, on the Vatican-sponsored ecumenical conference on Christ and world religions, and on the national Lutheran-Catholic Dialogue. She was a consultant to the US Catholic Bishops' Committee on Women in Church and Society, and a core committee member of the Common Ground Initiative, started by Cardinal Joseph Bernardin to reconcile polarized groups in the Catholic church.
In addition to authoring several books including the widely-acclaimed Consider Jesus: Waves of Renewal in Christology and  She Who Is: the Mystery of God in Feminist Theological Discourse, she has published more than 100 essays in scholarly journals, book reviews, chapters in books, and articles in popular journals. Her work has been translated into 13 languages.
LCWR honors Beth not only for her distinguished academic achievements and scholarly contributions, but perhaps most importantly for her consistent focus on the needs of all who suffer and struggle. Through her engagement of the most difficult questions of our day and her attention to violations of God's beloved creation, she works tirelessly for change in our world that is in accord with Jesus' vision of the reign of God.