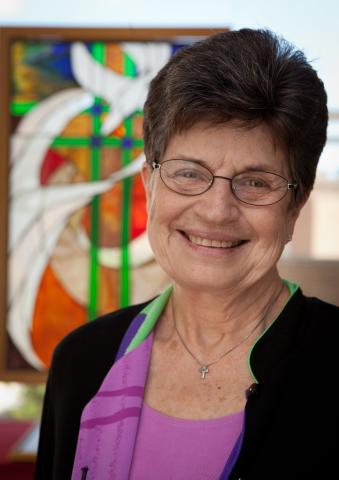 Writing for the May 2012 LCWR Update, Pat Farrell, OSF observed, "Itinerancy is a fundamental disposition of the heart, a posture of readiness for God's compelling claim over our lives for mission."
Indeed, itinerancy has been a strong spiritual theme in the life of this Sister of St. Francis of Dubuque. Leaving her native land of Iowa in her 30s, she has consistently made her home among people throughout the Americas who live on the margins and often in great danger. Fearlessly, she has placed herself in the midst of the most difficult of all human struggles -- accompanying those attempting to battle the internal demons of addictions and severe mental illness, as well as those seeking to survive against repressive regimes, corrupt military forces, and armed rebels.
Pat's academic preparation for her itinerant life includes a degree in English from Briar Cliff College and a master of social work degree from Loyola University, Chicago. After a short time of ministry in parish religious education and high school education in Iowa, she sought to know a larger world and began pastoral work in San Antonio, Texas. Granting her request to be missioned in Latin America, her congregation sent her in 1980 to Chile, which was then enduring life under the dictatorship of Augusto Pinochet. Ministering in the northern city of Arica, she participated in many social service, pastoral, and human rights activities. During her last year in Chile she worked in Santiago in service to the Ecumenical Association of Third World Theologians.
In 1986, Pat felt her call was to respond to what seemed an even greater need and moved to El Salvador, a country embroiled in civil war. She began her service there in a camp for internally displaced persons and later moved to Suchitoto, where she accompanied returning refugees, provided pastoral services, worked with the women's movement, and later served as a trauma mental health worker. Before returning to the United States, she cofounded the Center of Art for Peace in Suchitoto.
In 2005, her itinerant spirit brought her back to the United States and work in the behavior health field with Spanish-speaking people in Chicago and Omaha. Her congregation elected her as vice-president in 2008, and in 2010 LCWR elected her to its presidency. In these positions she exhibits outstanding leadership skills, working tirelessly to forward the mission of religious life, as well as raise significant questions among women religious and in the public forum on critical matters facing the Catholic Church today.