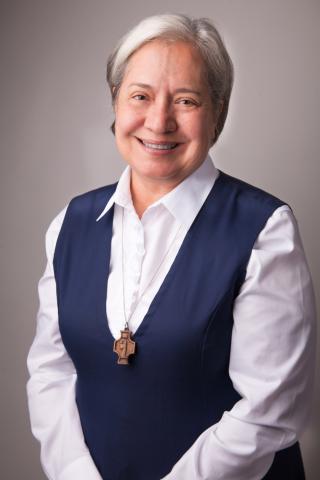 Norma Pimentel, a member of the Missionaries of Jesus, has inspired people worldwide by her tireless advocacy for immigrants and refugees. Her entire religious life has been dedicated to offering humanitarian assistance to persons arriving at the US-Mexican border in need.
The daughter of Mexican immigrants, she was born in Brownsville, Texas while her parents were awaiting response from the US government on their application for residence. "I am a US citizen by chiripa -- sheer chance," she says. She considers herself a product of the American dream of an immigrant, her own father, Joaquin Pimentel, who wanted his family to experience the safety and security the US could provide. And she knows how easily that dream can be shattered when immigrants are mistreated and abused. Crossing the border frequently between Texas and Matamoras, Mexico to be with her own family as a child, she understands well the hopes, fears, and tensions on both sides.
After earning a bachelor's degree in fine arts from the Pan American University, Norma encountered the Missionaries of Jesus, a diocesan community in Texas, whose mission was  focused particularly on the needs of immigrants. Shortly after she professed her first vows, she lived in a convent to which border patrol agents would bring immigrant families, often late at night, who needed a place to stay. She learned early on how to embrace the gospel mandate to welcome and protect the stranger. With a desire to serve immigrants as effectively as possible, she went on to earn a master's degree in theology from St. Mary's University in San Antonio and another master's degree in counseling psychology from Loyola University in Chicago.
She directed the Casa Oscar Romero in San Benito, Texas, a shelter providing emergency relief to Central Americans fleeing their homes in the 1980s; helped establish the Humanitarian Respite Center in McAllen, Texas, a safe haven for families after crossing the border; and has been serving as the executive director of Catholic Charities of the Rio Grande Valley since 2008 while also serving as the co-vicar for religious in the diocese of Brownsville.
Norma has been at the forefront of the humanitarian crisis on the border, overseeing the provision of emergency assistance and inspiring thousands of others to treat all refugees and immigrants with utter respect, giving high priority to restoring human dignity. The recipient of numerous awards and a frequent keynoter in this country and beyond, she uses every opportunity to advocate for the rights of migrants and refugees. She is untiring in reminding us to put a human face on the border crisis and not to turn away from seeing the anticipation as well as the trepidation in the eyes of those seeking a home in the US. "They have been through so much," she reminds us again and again even as she chokes back her own tears.