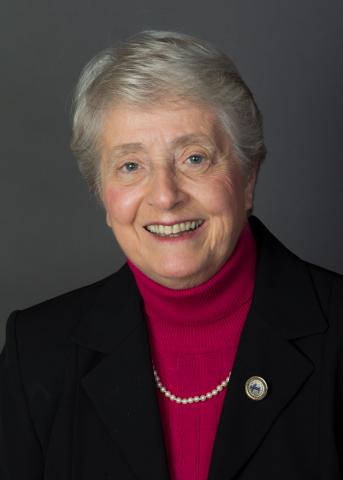 A versatile and creative scholar, Sandra M. Schneiders, IHM has made a profound impact in the fields of biblical study, spirituality, theology, and religious life.
Now professor emerita of New Testament studies and spirituality at the Jesuit School of Theology/Graduate Theological Union in Berkeley, California, Sandra has played significant roles in the school since joining the faculty in 1976. One of her outstanding contributions was to define the field of spirituality as an academic discipline. As one of the first to recognize the critical importance of this field, she served as a founding member of the doctoral program in Christian spirituality at GTU.
Sandra served as an officer of the Catholic Biblical Association of America, the Society for the Study of Christian Spirituality, the Society of Biblical Literature, and the Catholic Theological Society of America. As an esteemed member of all four organizations, she was able to make a unique contribution by bringing together biblical scholars and theologians – two specialties that have generally operated separately in the Catholic tradition.
Sandra holds a bachelor's degree in sociology and social sciences from Marygrove College in Detroit, Michigan; a master's degree in philosophy from the University of Detroit; the licentiate in sacred theology from the Institut Catholique in Paris; and was awarded a doctorate in sacred theology summa cum laude from the Pontifical Gregorian University in Rome. She is the recipient of five honorary doctorates, approximately 50 other awards, has authored 12 books, has written more than 80 articles in academic and pastoral journals as well as more than 50 book chapters and entries in encyclopedias and dictionaries. She has traveled throughout the world delivering lectures on the theology and spirituality of religious life, New Testament studies, spiritual direction, the study of spirituality, the Christian mystical tradition, and the theology and spirituality of ministry.
Sandra's study and perceptive analysis of religious life has been an invaluable resource to religious throughout the United States, and in other countries, as she provides the material and tools for readers to enhance their understanding of and appreciation for the richness of this lifeform.