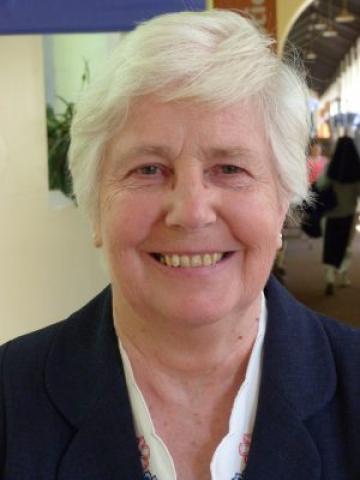 Ireland, a country marked by exquisite beauty as well as a complex history of famine, division, and oppression, is the land into which Pat Murray was born. The nation's rich cultural and spiritual landscapes clearly have shaped the way this strong and faith-filled woman lives, loves, and leads.
A member of the Institute of the Blessed Virgin Mary (Loreto Sisters), Pat has given her life to improving the situations of others – first in Ireland, and later throughout the entire world. Her keen intellect and natural leadership abilities were strengthened with extensive studies throughout the years at the University College Dublin, Trinity College Dublin, and Catholic Theological Union in Chicago which resulted in several degrees, including a doctor of ministry degree. These years of education, particularly around matters of justice and interculturality, prepared her to excel in every ministry in which she served.  
Her exceptional leadership skills were utilized first as a secondary school teacher and principal, a peace education officer for the whole of Ireland, a director of the Loreto education office, and a university lecturer and frequent speaker at conferences. In the field of education, she gained a reputation as an innovator who inspired faculty, staff, parents, and board members to exercise a communal symbolic leadership that helped them discover meaning in their work and value the contribution each was making to the greater vision. 
It is said that the sign of good leaders is their ability to assist and allow others to lead. As a member of the general council of her religious community for eight years, she empowered her sisters to lead in numerous ministries in more than 20 countries on all continents. She later became the executive director of Solidarity with South Sudan which established a new missionary paradigm of religious life with men and women religious living and working together to help the South Sudanese people build a peaceful and just society.  
In 2014, Pat began her current ministry as executive secretary at the International Union of Superiors General where she fosters networking and solidarity among the women religious of the world. She significantly expanded the services of the union and established several important global projects including Talitha Kum (anti-trafficking), the Sicily Project (migration), Laudato Si' Project/Sowing Hope for the Planet, the provision of canon law services for religious globally, and the Catholic Care for Children International project which provides leadership in childcare reform. 
Recognizing and valuing her extraordinary competence, Pope Francis appointed Pat in 2019 as a consultor to the Pontifical Council for Culture. The following year, she received Ireland's Presidential Distinguished Service award. These and other recognitions received over a lifetime attest to the significance of her impact on the world.